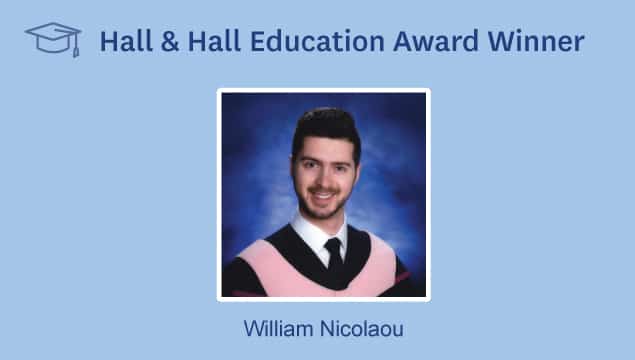 This year, we have the honor of recognizing an exceptional student with the Hall & Hall Education Award. The Hall & Hall scholarship is awarded to one post-secondary student who is entering into a faculty of education teaching program.   We are pleased to share that this year's deserving recipient, is William Nicolaou of York University.
William is the son of Tom Nicolaou, an educator in the Toronto District School Board.
Plans for Post-Graduate Education
This coming fall, William will be attending Teachers College at York University for the Junior / Intermediate program. Following the completion of his B.Ed, he plans on taking additional qualification courses so he can have the opportunity to teach at the senior level of grades 11 and 12.
Dedication to Learning
While reflecting his most valuable memory from his post-secondary experience thus far, William tells us about his Teaching Assistant opportunity at Western for music composition, specifically General Integrated Musicianship skills (GIM).
During this time, William taught a total of four individual classes per semester, specializing in two of the three sections: sight singing and dictation, with a significant student body. "Truthfully, when I took the same course in undergrad I initially struggled. It was not an easy course. I was able to pass down a lot of great tricks and techniques I learned from my skills professor at Wilfrid Laurier, Terry Kroetsch, who helped me improve. This resulted in excellent results from my students which I was very pleased with." says William.  "I ended up being nominated for a teaching assistant award at Western which I was not expecting, but a great surprise nonetheless!"
What the Hall & Hall Education Award Means to the Winner
Teachers Life has supported those who work in the education community since 1939. This award is for those pursuing a career in education and exhibits the drive and determination that all good educators have.
William expressed his gratitude the Hall & Hall Education Award will provide for him over his upcoming 2 years of study. "It is a really rewarding and nice experience to be recognized for the work I've done in school and with other activities such as band camp. Personally, it takes some financial stress off of my fiancée and my plate."
The Hall & Hall Education Award
The Hall & Hall Education Award is offered to one individual who will be graduating from university and entering a Faculty of Education Degree Program. The Award provides a scholarship for up to two years.
One of our core values at Teachers Life is supporting vibrant and healthy communities. As our valued Members are part of our Teachers Life community, we look forward to supporting them and their loved ones through our scholarship programs. Our mission is to build a secure future for our Members by giving back in meaningful, long-lasting ways.
Meet our J.F. Allen Scholarship Winners by clicking here. Meet our Teachers Life Bursary Winners by clicking here.
All articles and other information posted on http://teacherslife.com are intended to be informational only and not for the purpose of providing any health, medical, financial, insurance, legal, accounting, tax or other advice. Teachers Life does not guarantee or represent that any information in these articles or elsewhere on this website is accurate, complete, current or suitable for any particular purpose. You use or rely on such information solely at your own risk. All articles and website content are the property of Teachers Life and all rights are reserved. IN NO EVENT WILL TEACHERS LIFE BE LIABLE FOR ANY LOSS OR DAMAGE YOU INCUR RELATED TO YOUR USE OR RELIANCE OF THE INFORMATION IN THESE ARTICLES OR ELSEWHERE ON THE WEBSITE. See the Terms of Use for more information.