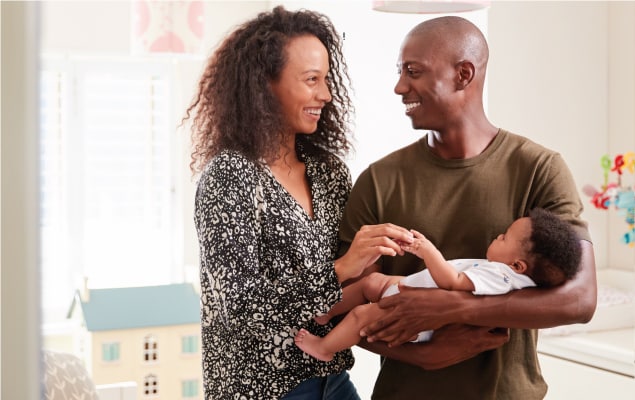 As a new parent, you'll experience a lot of joy – and a lot of worry. Protecting your family can seem overwhelming. But it doesn't have to be. A good life insurance plan can help reduce worry and stress.
Here are a few tips for making a plan to protect your family as it grows:
What's an estate plan?
An estate plan establishes your wishes for the transfer of your estate and the care of your children in the event of your death. As discussed in our blog post 4 Tips for Making Estate Planning Easier, an estate plan provides legal clarity. It outlines your after-death wishes and the distribution of your estate. If you don't have a proper estate plan, if you die your family may be subject to unnecessary costs and confusion. Your final wishes may be misinterpreted or unknown, whether they relate to funeral arrangements or the care of your children.
Life insurance can be a critical part of your estate plan. It can help cover the cost of a funeral and estate taxes, provide immediate financial assistance and help your family save for the future. We all know the topic of funerals is not something we all want to talk about, but it is something we'll have to think about sooner rather than later. Additionally, while it may be tough to think about, life insurance can help you protect your family and the life you want for them.
Make a plan to protect your family
Creating an estate plan can seem like a big task but don't put it off. Planning today can reduce stress, worry and risk. The Educator's Financial Group has an Estate Planning Essentials Guide that gives a brief overview of several key pieces of an estate plan: a will, a power of attorney and trusts. Learn about what you may need and get advice from sources you trust.
To help cover the costs of completing your estate plan, Teachers Life also offers rebates to our Members and their spouses who create wills and powers of attorney for the first time. Find out more about our Will Rebate and Power of Attorney Programs.
Get the coverage you need
You may have purchased life insurance when you were young and single or when you first got married. As a parent you'll want to revisit your plan and figure out whether it provides enough coverage. Your immediate concerns may include paying off debt or a mortgage and replacing income. Long-term concerns may include your children's education, providing an income for your spouse and helping to pay for care-giving costs.
Review your life insurance plan with the birth of each child. As your priorities and lifestyle change and as your family grows, it's important to review your coverage and make sure you have enough to cover your immediate and long-term expenses.
Teachers Life Online Individual Term Insurance offers flexible term insurance plans that can change based on your family's needs. It can provide a lifetime of protection for your family and grow or change as your family does. Get a quick online quote today.
Both parents need coverage
Even though both parents contribute to your household's well-being, in many households the breadwinner is the only one who carries life insurance. A surprising number of Canadian women – 42 per cent – don't have life insurance (LIMRA, 2012). Even if you're not the primary breadwinner, consider how much your income contributes to your growing family's livelihood. How would your family replace your income or pay for childcare in your absence?
If you or your spouse has decided to stay at home with the children, it's still important to ensure that both parents have life insurance. Many stay-at-home parents do not consider the financial worth of their contribution, such as childcare and housekeeping (Today's Parent, 2013). Consider how much time you both spend as caregivers. If you or your spouse were to pass away, you would likely need help caring for your family. When considering how much coverage you need in your life insurance plan, make sure you include potential childcare and housekeeping expenses in your calculations.
Follow us for more tips and tools
At Teachers Life, we're here to support educators from their first day in the classroom to retirement. In our blog series, "Insurance for Your Life Stage", we'll discuss how life insurance needs can change through each of life's stages. Follow us on Twitter and be a part of our Facebook community, and now you can follow us on Instagram.
All articles and other information posted on http://teacherslife.com are intended to be informational only and not for the purpose of providing any health, medical, financial, insurance, legal, accounting, tax or other advice. Teachers Life does not guarantee or represent that any information in these articles or elsewhere on this website is accurate, complete, current or suitable for any particular purpose. You use or rely on such information solely at your own risk. All articles and website content are the property of Teachers Life and all rights are reserved. IN NO EVENT WILL TEACHERS LIFE BE LIABLE FOR ANY LOSS OR DAMAGE YOU INCUR RELATED TO YOUR USE OR RELIANCE OF THE INFORMATION IN THESE ARTICLES OR ELSEWHERE ON THE WEBSITE. See the Terms of Use for more information.