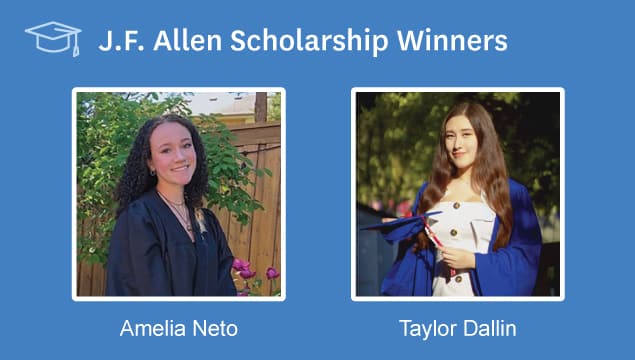 This year at Teachers Life we have the honor of recognizing two exceptional students with the J.F. Allen Scholarship. Our recipients, Amelia Neto of Lorne Park Secondary School and Taylor Dallin of Cardinal Carter Academy School for the Arts, demonstrated exceptional academics and community contributions both within and outside of their respective schools.
Amelia is the daughter of Jennifer O'Neill-Neto, an educator with the Peel District School Board. Taylor is the daughter of Jung-Min Yoon, an educator with the Toronto District School Board.
Plans for Post-Secondary Education
This coming fall, Amelia will be attending Carleton University for Health Sciences. "Since a young age, my unwavering goal has been to attend medical school. I want to pursue a career that will allow me to help others." Amelia cheerfully describes looking forward to the experience of gaining independence as she moves away from home and grows both personally and academically.
Taylor will be attending Yale with a focus on ethics, politics and economics. This is an extremely exciting opportunity for Taylor, "it combines my interests from being able to learn from amazing professors, talented students and topics that I'm really passionate about". According to Taylor, she has a "dream to become a lawyer and eventually do challenging courses and make new friends and connections with diverse people from around the world, while working towards solutions to the world's problems".
Finishing High School During the COVID-19 Pandemic
When reflecting on their final months of high school, Amelia and Taylor share some interesting insights on how they were able to make the most out of such unprecedented times. While most key high school milestones such as prom, commencement and a graduation trip were either cancelled or postponed, Amelia and Taylor choose to focus on the positives of what their COVID graduating experience has uncovered for them personally.
As Taylor explains, "This pandemic has given me a chance to find new ways to learn and uncover new things through YouTube, university courses and even new hobbies".   She goes on to add that remote learning allows students to "create new and innovative ways to go about things".
Amelia shared that this pandemic and its global impact on humanity has deepened her passion and drive to pursue medicine. "It's really inspired me even more to want to be part of the solution in the medical field and help make substantial impacts."
Moreover, both describe the adjustment to virtual learning as bringing their graduating class closer together and help prepare them for the virtual learning experience in the fall.
Interests Outside Academics
Prior to the pandemic, Amelia and Taylor were involved in exceptional extracurricular activities, which they balanced while continuing to excel in their academics. Amelia mentions playing national level ringette as goalie on both AA and AAA teams, in addition to being a member of many sports teams and clubs within her school. Through her time playing ringette, she traveled across Canada and Europe to compete. In February, her AA team took home a silver medal at the Ontario Winter Games.
Furthermore, Taylor describes her passion in the arts in addition to her academics. "I have a super creative side to me. A lot of people know me as super focused on school and extracurricular work, but I've been a drama major throughout high school and a hip hop dancer as well."
What the J.F. Allen Scholarship Means to the 2020 Winners
One of our core values at Teachers Life is supporting vibrant and healthy communities. As our valued Members are part of our Teachers Life community, we look forward to supporting them and their loved ones through our scholarship programs. Our mission is to build a secure future for our Members by giving back in meaningful, long-lasting ways.
Our recipients were very appreciative of the help the J.F. Allen scholarship will provide them over the next 4 years of study.  Amelia notes, "On my current trajectory, I have many years of school ahead. Therefore, the J.F. Allen Scholarship will help me achieve my scholastic goals, while continuing in extracurricular activities. I'm really grateful that Teachers Life has provided me with some of the financial means to support myself in making future strides while recognizing my hard work throughout high school.".
Similarly, Taylor shared that "this scholarship is really an encouragement to me to reach new heights and to continue some of the work that I'm already doing. It's a reminder of my hard work and to keep moving forward and going after my dreams."
The J.F. Allen Scholarship
The J.F. Allen Scholarship is given to two students every year who demonstrate excellence, achievement and a deep connection to their schools and communities.  The scholarship is for up to 4 years of post-secondary education. To-date, Teachers Life has invested almost $450, 000 in scholarships and bursaries for the families of its policyholders. Dedicated to those who work in education, these awards are a flagship program of the insurance company's fraternal mandate.
Meet our 2020 Teachers Life Bursary Winners by clicking here.  Meet our 2020 Hall & Hall Education Award Winner by clicking here.
All articles and other information posted on http://teacherslife.com are intended to be informational only and not for the purpose of providing any health, medical, financial, insurance, legal, accounting, tax or other advice. Teachers Life does not guarantee or represent that any information in these articles or elsewhere on this website is accurate, complete, current or suitable for any particular purpose. You use or rely on such information solely at your own risk. All articles and website content are the property of Teachers Life and all rights are reserved. IN NO EVENT WILL TEACHERS LIFE BE LIABLE FOR ANY LOSS OR DAMAGE YOU INCUR RELATED TO YOUR USE OR RELIANCE OF THE INFORMATION IN THESE ARTICLES OR ELSEWHERE ON THE WEBSITE. See the Terms of Use for more information.