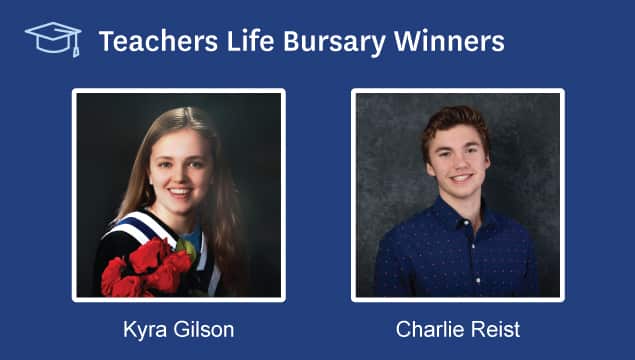 This year, we have the honor of recognizing two exceptional students with the Teachers Life Bursary Award. Our recipients, Charlie Reist of Kitchener-Waterloo Collegiate and Kyra Gilson of the University of Toronto Schools, demonstrated what we consider well-rounded excellence in both academic and extracurricular activities while maintaining a minimum 70% grade average.
Charlie is the son of Steve Reist, an educator in the Waterloo Region School Board. Kyra is the granddaughter of John Gilson, retired educator from the Grand Erie District School Board.
Plans for Post-Secondary Education
This coming fall, Charlie will be attending both the University of Waterloo and Wilfrid Laurier University for a double degree. At the University of Waterloo, Charlie will be enrolling in a Math program, while also attending Wilfrid Laurier for business. Charlie is thrilled to be able to pursue a combined double program which undoubtedly will help him keep his future employment options open and very promising.
Kyra will be attending Western University in the fall to study software engineering and has her sights on UWO's Ivey Business program in third year which would provide her with a combined engineering and HBA degree at graduation. Kyra is equally excited to begin this new chapter with new independence, social connections and learning opportunities. "I'm looking forward to starting to tackle bigger problems and be a lot more prepared for the things I want to do today".
Finishing High School During the COVID-19 Pandemic
COVID has brought some interesting challenges to us all in 2020 and Charlie and Kyra both shared on how the 2020 global pandemic influenced their outlooks.  While they may have missed out on the conventional approach to events like their prom, commencement and a graduation trip, they both feel a sense of heightened self as they begin their new chapters.
As Kyra articulates, "It's brought us closer together as we've connected online, had time for personal reflection and really taken the time to reach out to one another. It's been nice to take a break from our busy lives.".
Interests Outside Academics
Prior to the pandemic, Charlie and Kyra were involved in a number of extracurricular activities, which they both managed to balance while continuing to excel in their academics.
Charlie shares his experience of playing rep hockey since age seven. "Last year I was the Co-Premier and led a fundraiser, to which we raised $18,000."
What the Teachers Life Bursary Means to the 2020 Winners
Our recipients are very grateful for the help the Teachers Life Bursary will provide them over the next  year of study.  "It's really awesome to be recognized for my wok at school and in the community. The money from this bursary will be put towards further academic opportunities including tuition and school supplies." says Charlie
Kyra shared, "It's an incredible honor and it has been so nice to be recognized for all my years of hard work and to have recognition for all the things I've done and accomplished throughout high school. It gives me even more motivation to continue to get involved in my community and extra-curriculars in the future."
The Teachers Life Bursary
The Teachers Life Bursary Awards are given to two students every year based on their extracurricular activities and ability to maintain a 70 to 80 per cent grade average. One of our core values at Teachers Life is supporting vibrant and healthy communities. As our valued Members are part of our Teachers Life community, we look forward to supporting them and their loved ones through our scholarship programs. Our mission is to build a secure future for our Members by giving back in meaningful, long-lasting ways.
To date, Teachers Life has invested almost $450, 000 in scholarships and bursaries for the families of its policyholders. Dedicated to those who work in education, these awards are a flagship program of the insurance company's fraternal mandate.
Meet our 2020 J.F. Allen Scholarship Award Winners by clicking here. Meet our 2020 Hall & Hall Education Award Winner by clicking here.
All articles and other information posted on http://teacherslife.com are intended to be informational only and not for the purpose of providing any health, medical, financial, insurance, legal, accounting, tax or other advice. Teachers Life does not guarantee or represent that any information in these articles or elsewhere on this website is accurate, complete, current or suitable for any particular purpose. You use or rely on such information solely at your own risk. All articles and website content are the property of Teachers Life and all rights are reserved. IN NO EVENT WILL TEACHERS LIFE BE LIABLE FOR ANY LOSS OR DAMAGE YOU INCUR RELATED TO YOUR USE OR RELIANCE OF THE INFORMATION IN THESE ARTICLES OR ELSEWHERE ON THE WEBSITE. See the Terms of Use for more information.