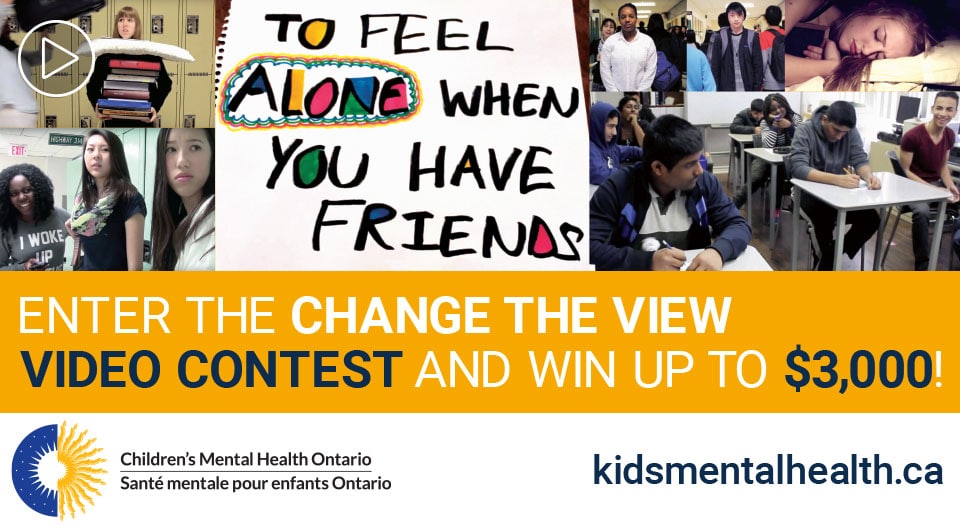 A blog post from our partners Children's Mental Health Ontario:
Teachers: Help Reduce Mental Health Stigma – Change the View 2016
Teachers we know that you play a crucial role in supporting kids with mental health issues in the classroom. We need your help because shame is one of the most challenging feelings that youth battle when they have a mental illness. Whether valid or not, the fear that they may be judged for being different or for not being able to 'snap out of it' can be paralyzing.
Please support this very important youth-led contest by sharing Change the View with your students.
For the past 7 years, Children's Mental Health Ontario has hosted the Change the View YouTube contest to provide a positive outlet for youth (ages 13+) wanting to express their experiences with mental health and well-being. Youth are invited to make a short video that demonstrates how we can deconstruct the stigma around mental health issues – for a chance to win $3000! The contest opened on March 1st, 2016, and the deadline for video submission is April 8th, 2016.
Here's how you can get involved:
• SHARE: You should have received contest posters in your school. Post these in a prominent place in your school, encouraging students to participate.
• HELP: Support students to participate in the contest by providing coordination, encouragement and supports if they need it.
• ATTEND THE EVENT: Attend CMHO's Change the View event in Toronto on Monday May 2nd, where we will announce the winners of Change the View. This will be a celebratory evening hosted by our Youth Action Committee. More details to come.
Full details regarding this year's contest are available on our website at: www.kidsmentalhealth.ca. This year's Change the View contest is proudly supported by Teacher's Life.
For more details, visit www.kidsmentalhealth.ca. To view last year's winning videos, click here.
Kimberly Moran
President and CEO
Children's Mental Health Ontario | Santé mentale pour enfants Ontario
All articles and other information posted on http://teacherslife.com are intended to be informational only and not for the purpose of providing any health, medical, financial, insurance, legal, accounting, tax or other advice. Teachers Life does not guarantee or represent that any information in these articles or elsewhere on this website is accurate, complete, current or suitable for any particular purpose. You use or rely on such information solely at your own risk. All articles and website content are the property of Teachers Life and all rights are reserved. IN NO EVENT WILL TEACHERS LIFE BE LIABLE FOR ANY LOSS OR DAMAGE YOU INCUR RELATED TO YOUR USE OR RELIANCE OF THE INFORMATION IN THESE ARTICLES OR ELSEWHERE ON THE WEBSITE. See the Terms of Use for more information.