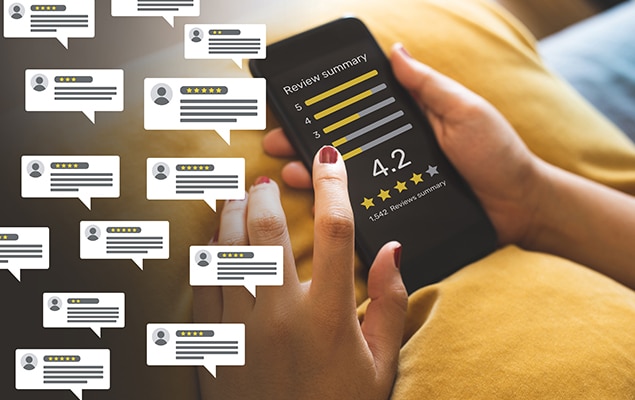 It's been a minute since Teachers Life last launched an all-Member annual survey.  As part of a 360-degree deep-dive into Member experience in 2022, a broad survey was developed to capture the experiences and opinions of our Members over the course of their relationship with Teachers Life.
Big Thank You!
Thank you to those who took time to participate this year! Your feedback in the 2023 survey will be used as a benchmark for future surveys and in our quest for continuous improvement. This important information helps us move forward, towards the ideal Member experience.
How did we do?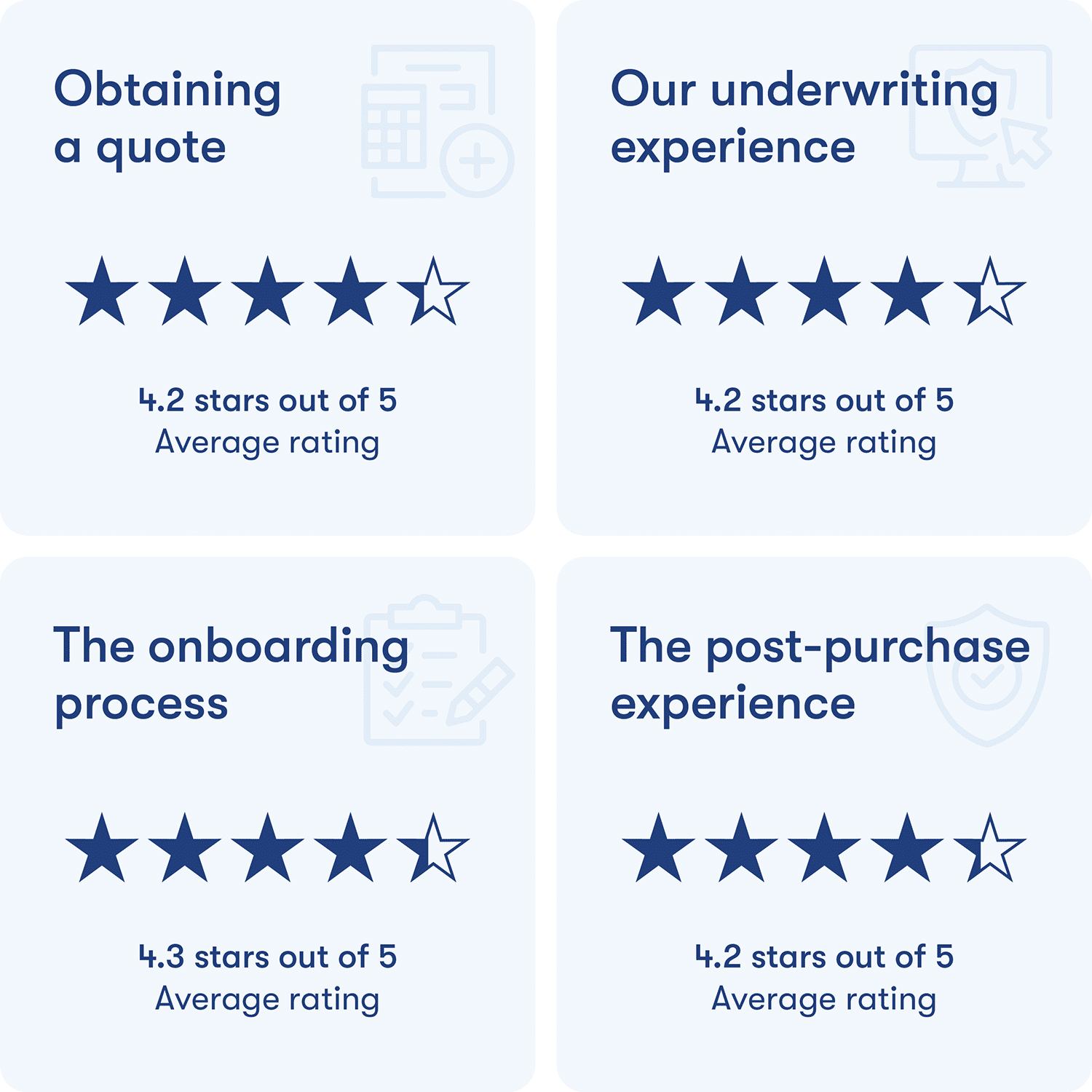 How did Members rate their experience with our Representatives?
50% of participants gave us a 5/5! Thank you! And we netted out at a 4.3 average.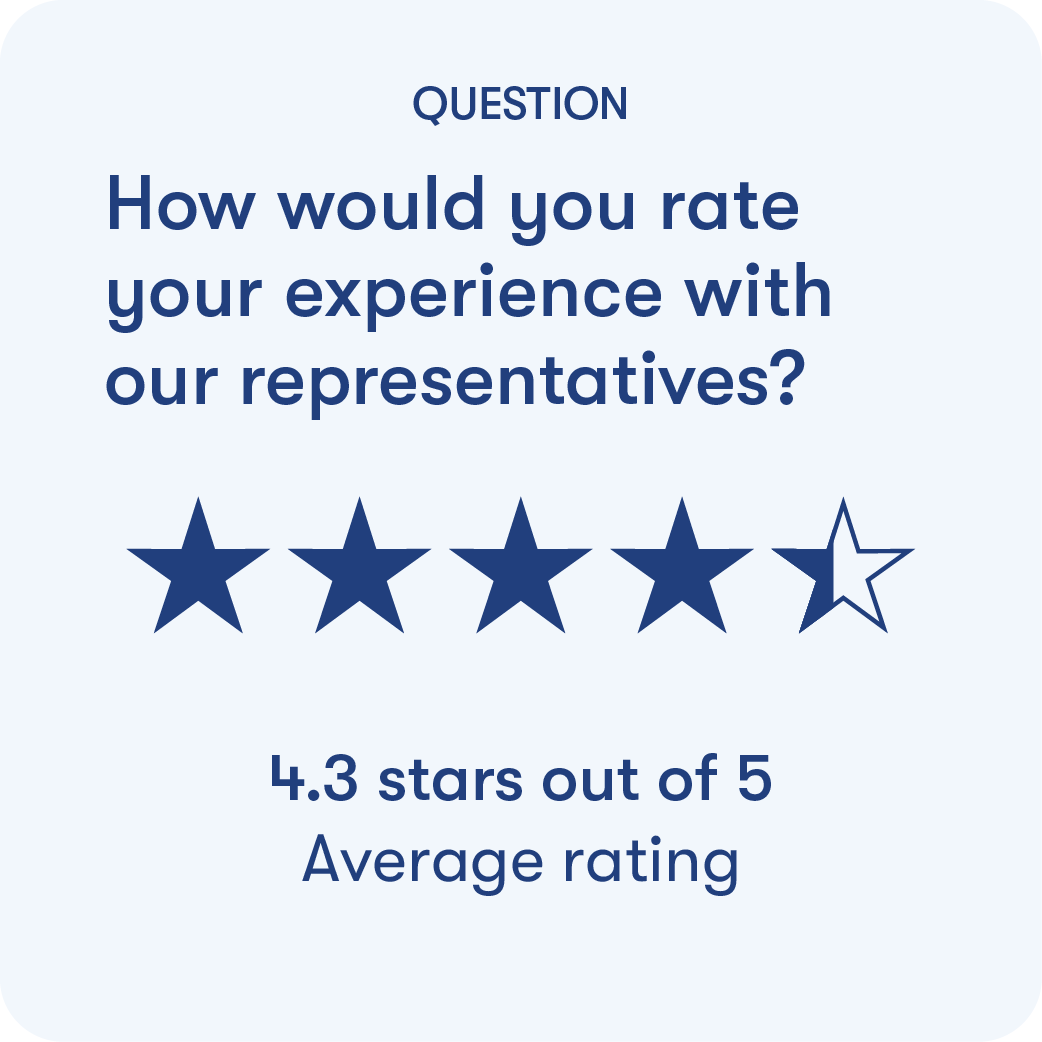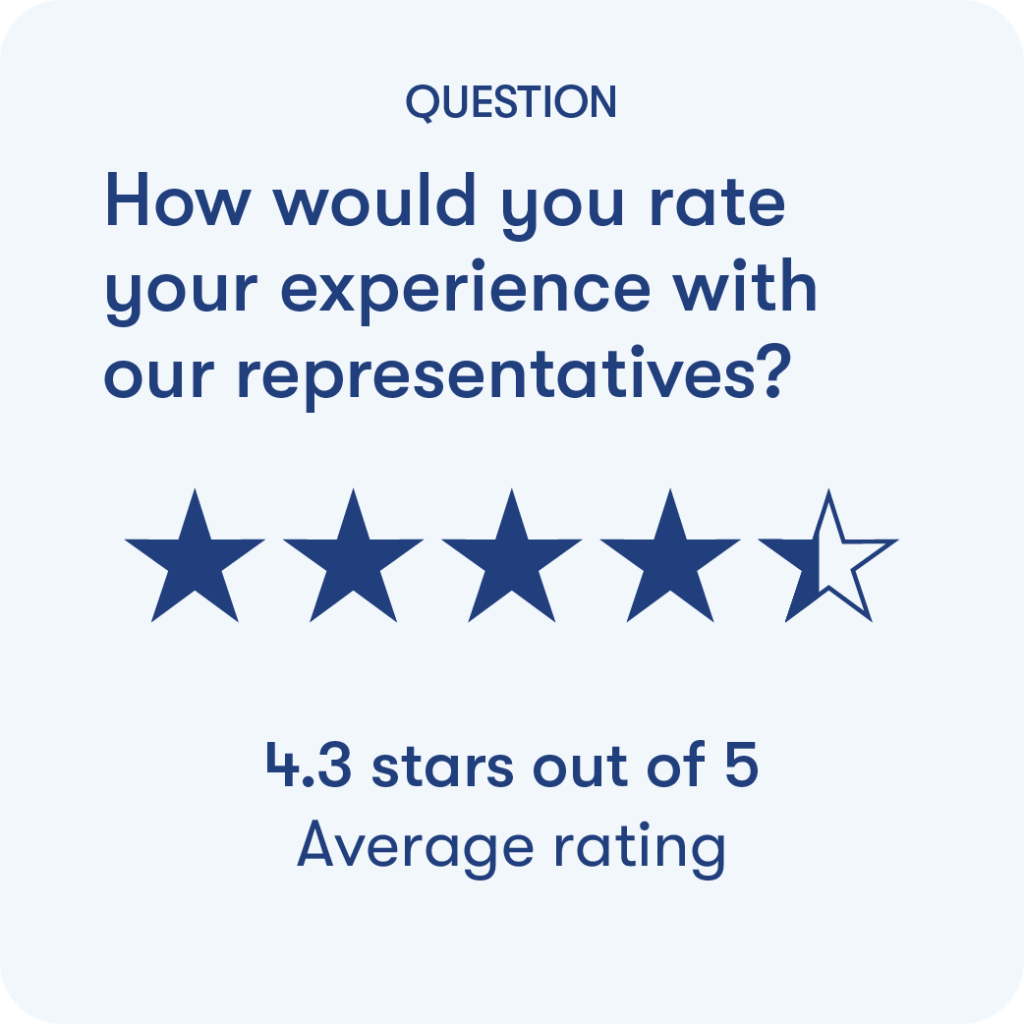 What Matters Most to Members Service Experience?
53% of participants said:
Accuracy of Response
Knowledge of Representative
Swiftness of Service
We pride ourselves on excellence in service experience from the first moment we interact with you. While the results are encouraging, there's always room to improve.
We asked you what sets Teachers Life apart from other companies and here's what you said: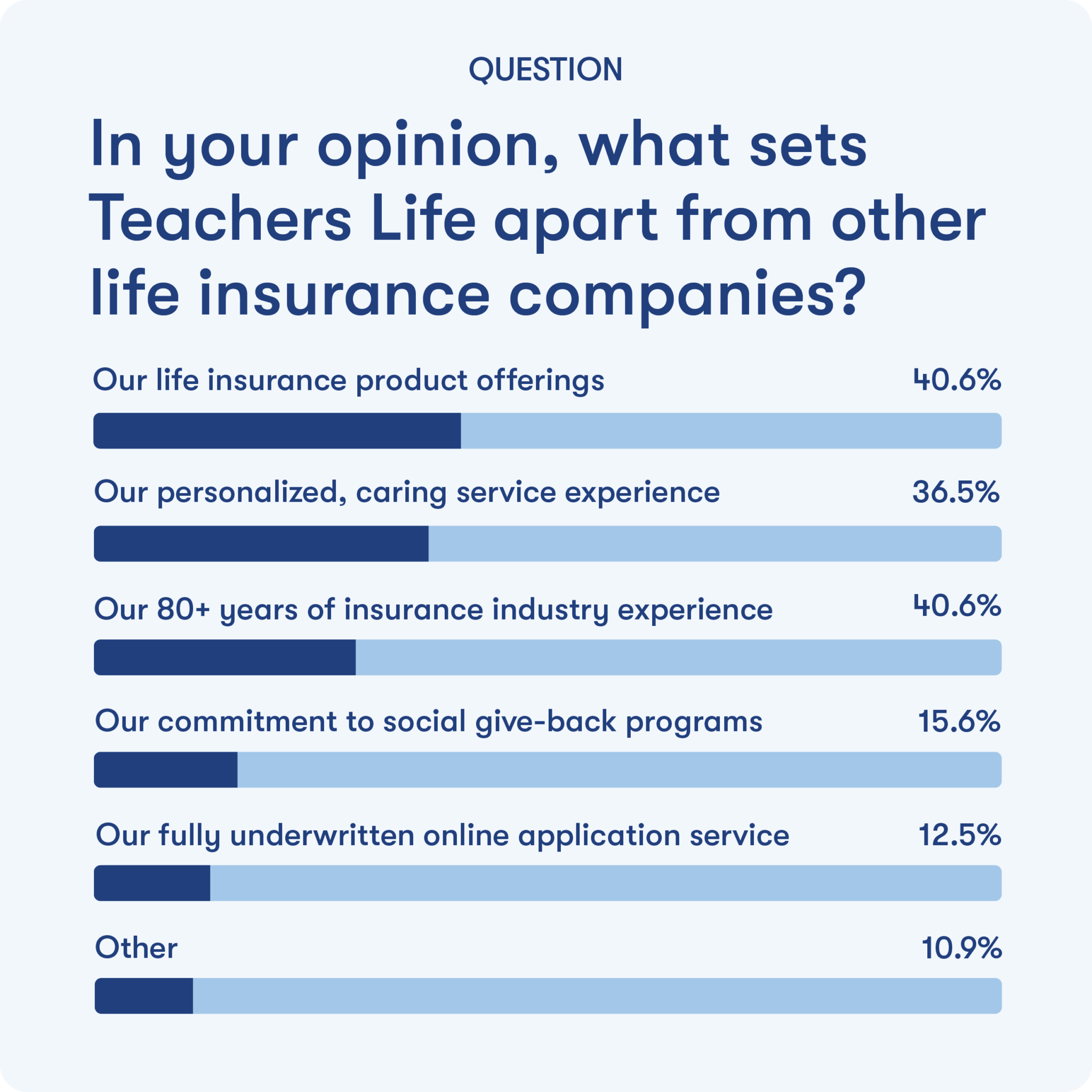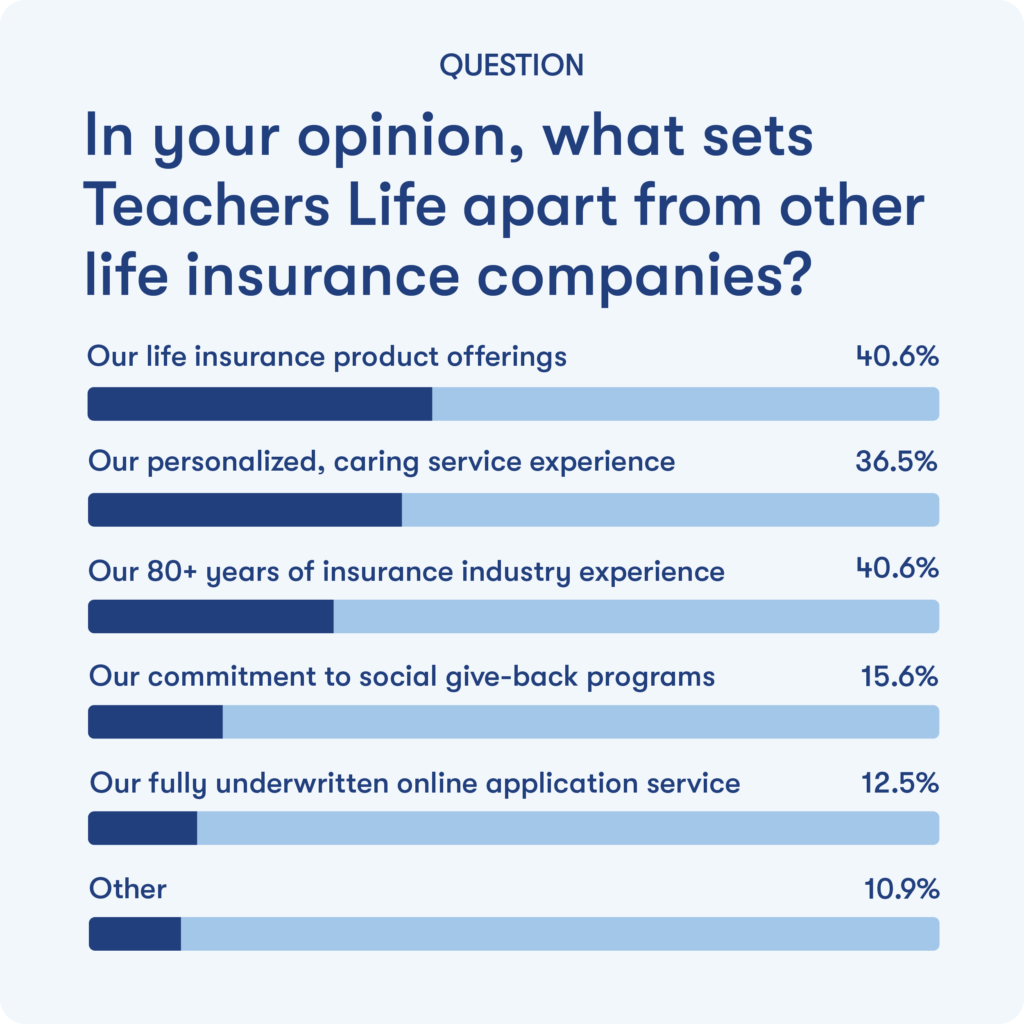 There's always room for improvement.
We identified 5 Big Opportunity areas to focus on. These pillars act as our "large lens" to see where bumps on the journey exist:
Clear Communication
Make it Comfortable
Make it Easy
Create Community, and
Support Youth

Here's a sample of what Members had to say about what we can improve upon:
"Just a better explanation of the payment process and the monthly emails I get…"
We're Listening
We engaged a new payment & invoice management provider that offers what we believe is a smoother, more user-friendly bank & credit card experience.  Watch for future communications on this!
"Allow healthy living, wills, credits to apply per policy per year and not per owner."
We're Working On It
Our rebate program along with our full suite of member benefits will be reviewed this year, & revamped in 2024, to provide programs and tangible benefits that resonate while offering faster, smoother ways to participate.
"Expand product offerings."
Exciting Things Are Coming Soon!

We've been hard at work behind the scenes developing new life products suited to a broader range of needs. This new suite moves our traditional underwritten term products into our online platform for an end-to-end frictionless experience; faster, smoother & more efficient. Launch of our new products is coming very soon.
"More information on exactly what you offer."
Test. Learn. Repeat.

In late 2022, we launched a new approach that connects an interested person to a licensed representative quickly, for a warm live-assist experience. This eliminates delays, provides opportunity for one-to-one education and information sharing & sets expectations for next steps.
Early this year, we also began an outreach campaign for our long-term disability (LTD) policyholders, to provide information on their District-sponsored LTD coverage and membership with Teachers Life. We're already seeing positive results from both these approaches.

Requests from our Long-Term Disability Plan Members:
"School visits."
"Representatives within each school with expertise on the Teacher's Life coverage would be helpful as information can be shared at staff meetings. This would engage Members with your products/coverage".
We hear you.

In 2022 we actively engaged with each of our Districts with a desire to improve Member communications and build Member Appreciation Programs under the umbrella of a joint Member Advisory Committee. We'll be engaging with the Districts much more in 2023 and beyond.
Sneak peek: What else is on tap?
Member Journey Map
Last year, we began a robust exercise to identify touchpoints & key moments of truth Members experience over the life of their policy. From this we created a Heat Map, identifying friction points, opportunities, ideal experience, and tactics for improvement. We prioritized areas that have high Member impact to:

Clear Communication, Make it Comfortable, Make it Easy, Create Community, and Support Youth
Customer Relationship Management (CRM): A 360-degree view of Members across their journey for a smoother, more accurate experience. Reduce redundancy in separate systems. Increase 1st contact resolution.
Automated Member "Pulse" Surveys: Give Members an easy way to tell us about their experience quickly across touchpoints at key moments.
Phone Chat: Offer another choice/channel of communication, making it comfortable for those who want to connect with a licensed representative.
E-signature Capabilities: Investigate electronic signature software to replace wet signature requirements on forms and documents.
Social Give Give-Back: Press Start: Based on a successful inaugural 2022 Program launch, we identified core areas of focus for 2023: Administration, Participation, Program Resources, Participant Resources, Awareness, Community & Facilitation.
Improved Claims Experience: Address friction points or inefficiencies.
Better Contact Us options, triage and service tracking.
Improve Tangible Rebate Mix for our Members
Improved Life Product Mix and online experience
Our Members Are What Matter Most
Without our Members, we wouldn't be here. You are why we do what we do and we'll continue to strive to provide you with excellent service across your entire experience with us.
All articles and other information posted on http://teacherslife.com are intended to be informational only and not for the purpose of providing any health, medical, financial, insurance, legal, accounting, tax or other advice. Teachers Life does not guarantee or represent that any information in these articles or elsewhere on this website is accurate, complete, current or suitable for any particular purpose. You use or rely on such information solely at your own risk. All articles and website content are the property of Teachers Life and all rights are reserved. IN NO EVENT WILL TEACHERS LIFE BE LIABLE FOR ANY LOSS OR DAMAGE YOU INCUR RELATED TO YOUR USE OR RELIANCE OF THE INFORMATION IN THESE ARTICLES OR ELSEWHERE ON THE WEBSITE. See the Terms of Use for more information.