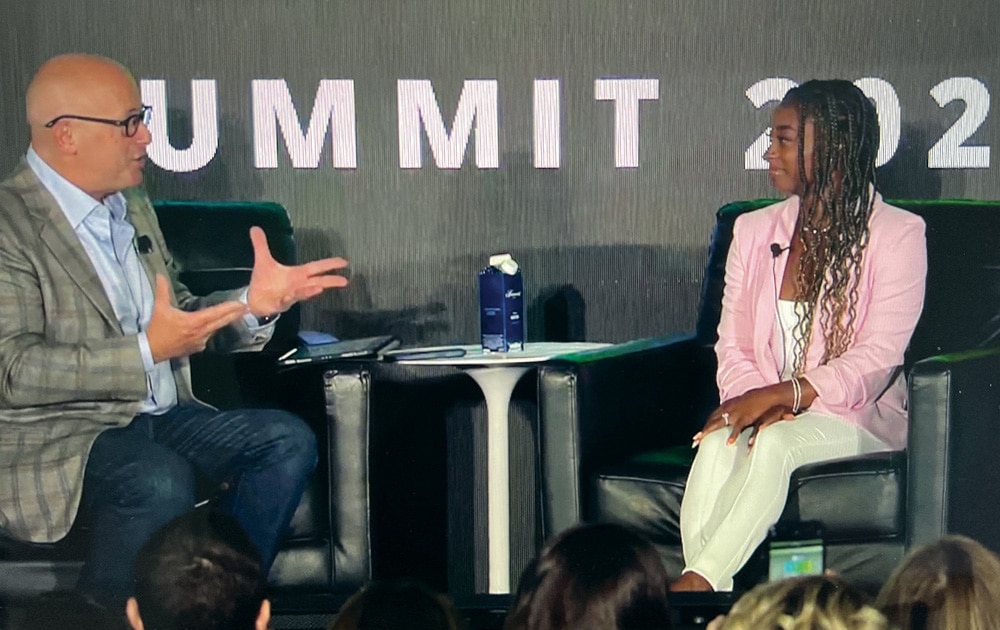 Virgin Pulse Thrive Summit 2022
The health and wellness of our communities has and continues to be a priority for us at Teachers Life. Our amazing partnership with Virgin Pulse allows us to pursue this commitment by providing our Members with complimentary access to our Virtual Health and Wellness Program (powered by Virgin Pulse).
This year our team at Teachers Life had the opportunity to attend Virgin Pulse's Thrive Summit 2022, allowing us to continue to grow and inspire our vision of health and wellness within our communities.
Thrive Summit brought together clients from all over the globe to share new and innovative health and wellness programs, their roadmap of enhancements and educated and inspired attendees with speakers who have overcome great obstacles and chosen a path to thrive despite those obstacles.
As a team, we got to hear from world-renowned experts, innovators, academics, and industry thought leaders on how we can reimagine how we approach health and wellness to support our Members even further. Here are just a few of the exceptional highlights from our Teachers Life staff: Martha, Lia, and Dom.

Martha:
"We scanned the global market to determine to partner with the best provider and selected Virgin Pulse (part of the Virgin brand family). Since then, we have never looked back. Our Teachers Life Virtual Health and Wellness Program is complimentary to all our Members from the moment they open a policy with us.
The platform is simply next to none and continues to deliver meaningful results. The Summit was a small reflection of who invested this brand is in personal well-being and redefining what personal wellness means for different people.
My favourite moment was listening to Olympic gymnast Simone Biles who spoke about overcoming her obstacles at the 2021 Olympics in Tokyo where she made the courageous and incredibly agonizing decision to withdraw from some events because of her mental health.

Her head game was not where she needed it to be to safely compete. She now is an advocate for mental health and a role model for us all to be kind and listen to when our mind and bodies are misaligned no matter the stakes. Simone's story along with other keynote speakers reminded me that health and wellness is a lifelong journey where we can be faced with difficult times that can appear at the most inopportune times.
Virgin Pulse did a wonderful job at bringing forward difficult topics in a safe and inspiring way for all attendees. What an event!"
Lia:
"The Virgin Pulse Thrive conference was interesting, inspiring and filled with the latest health and wellness expert information and advice. I'm so glad I attended the incredibly inspiring, emotional and funny keynote speech by Rob Jones called: 'Turning Wellbeing Up to 11'. Rob is an ex-Marine, veteran, double amputee athlete who ran 31 marathons across the U.S. in 31 days. If you're ever feeling like you can't do something or you need a push to get off the couch and get going, I highly recommend watching his story on YouTube.

I also loved hearing from Simone Biles in her keynote speech and DEI panel about her experience becoming an Olympian athlete and her perspective on facing mental health issues. She's empowering other athletes (and the rest of us) to prioritize their mental health and safety.
And of course, I loved the chance to mingle with other attendees in a beautifully designed setting with food trucks and a country band playing cover songs. It was such a great opportunity to feel a sense of community from industry thought leaders and experts across North America, who are all passionate about health and wellness."

Dom:
"A few of the things that really stood out to me at the Thrive conference were Virgin Pulse's innovations in health and wellness user experience, as well as Michelle Courtney Berry and Rob Jones' speeches. Virgin Pulse has updated their app and website to redesign their user interface and improve live coaching options with custom built health plans. We had the chance to preview these amazing updates and can't wait to share them with our Members through their complementary virtual health and wellness app, powered by Virgin Pulse.

We also had the opportunity to hear from former Ted x speaker, Michelle Courtney Berry, who spoke about mind body connectivity with a focus on avoiding burnout. I loved hearing about a new perspective that focuses on key elements to staying balanced. Michelle spoke specifically about mindful self care and how it can be framed as "rescue self care" to bring you back from being burnt out, or even to prevent you from getting burnt out in the first place.
Hearing from speaker Rob Jones, a retired Marine and Paralympian who lost both of his legs in Afghanistan and ran 30 plus marathons was incredibly inspiring. He spoke to his journey from the time when he was in the hospital, all the way to running 31 marathons in 31 cities. Rob discussed that although he was struggling to find purpose in life, he persevered, trying out various different sports until he eventually competed in the Paralympics in which he won a bronze medal in rowing. His key message highlighted that you can overcome anything in life through purpose and meaning. Two quotes that really stood out to me were to 'Stop worrying about the distractions and focus on yourself and what you want out of life.' and to 'Bench press all the stress and distractions in your life.'
We left the Thrive Summit feeling excited, motivated, and inspired for what's to come of our health and wellness healthy living Member benefits at Teachers Life. We're a "Member-driven" fraternal insurance company with a mission to improve the health and well-being of our communities.
We can't wait to share with you all of the exciting innovations on our Virtual Health and Wellness Program (powered by Virgin Pulse). We have real and meaningful support for your personal health and wellness journey. Learn more here.  To become an individual policy holder and access our amazing healthy living benefits, check out our new digital-first brand nowly, for all Canadians.
All articles and other information posted on http://teacherslife.com are intended to be informational only and not for the purpose of providing any health, medical, financial, insurance, legal, accounting, tax or other advice. Teachers Life does not guarantee or represent that any information in these articles or elsewhere on this website is accurate, complete, current or suitable for any particular purpose. You use or rely on such information solely at your own risk. All articles and website content are the property of Teachers Life and all rights are reserved. IN NO EVENT WILL TEACHERS LIFE BE LIABLE FOR ANY LOSS OR DAMAGE YOU INCUR RELATED TO YOUR USE OR RELIANCE OF THE INFORMATION IN THESE ARTICLES OR ELSEWHERE ON THE WEBSITE. See the Terms of Use for more information.