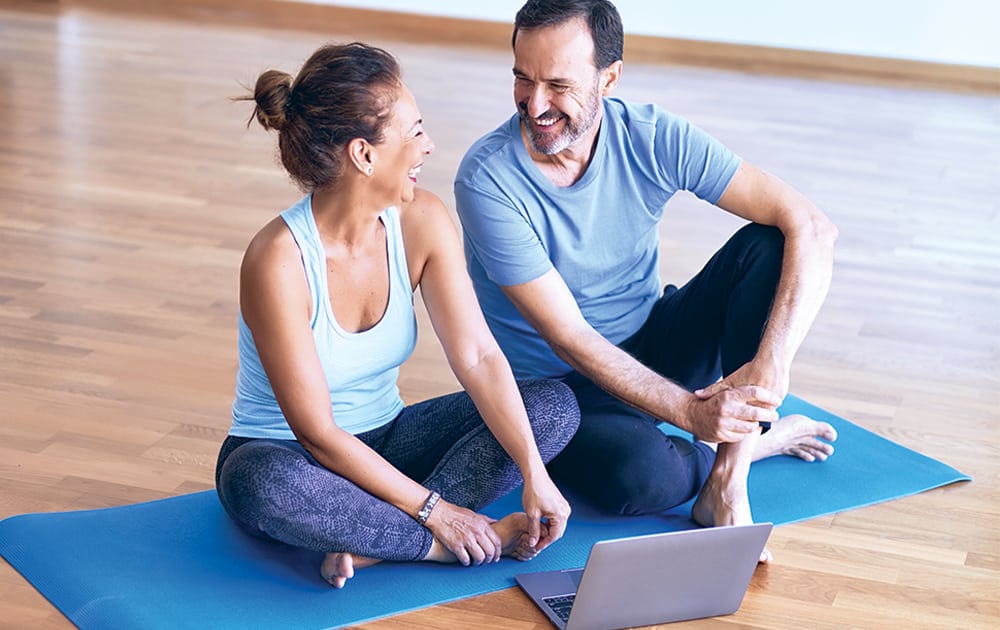 Are you missing your regular gym workout these days? With the weather turning chillier, maybe you've been less inclined to exercise outdoors the way you may have been doing in the summer and fall. Instead of giving up your daily sweat and crawling under a pile of blankets for warmth this winter, why not try the getting fit in the comfort of your own home?
The Many Benefits of Exercise
It is no secret that regular physical exercise has a lot of health benefits. Exercise can strengthen your immune system, so you're better able to fight off colds and flus. It can also reduce stress, increase happiness and control weight. Working out is good for your muscles and bones, increases your energy, reduces the risk of chronic disease, helps brain health (memory in particular!), improves sleep quality and has been shown to relieve pain.
Why Getting Fit at Home Is a Good Idea
Avoiding the gym isn't just good to reduce exposure risk to the Covid-19 virus. It also has the added benefits of saving you money and time (no parking to navigate!). And you can workout when you want, not when your favourite class is scheduled.
10 Easy Steps to Get Fit at Home:
1. Design a workout space
Experts say you don't need a big space to get a big workout. Ideally you will have enough room to step forward and back, left and right, from standing. If you can lay down on your back or drop into plank position, that's all the room you need. Often the living room is an ideal space to convert into a gym. But if you share your home, working out in the foyer or home office can be quieter for you and more considerate to those you live with. Once you've designated your space, it's time to declutter. Workouts are more likely to happen the less prep you need to do to your space. Moving a chair is easy. Moving a couch, rolling up a carpet and dismantling a Lego set might be a bit discouraging.
2. Invest in some gear
If you're interested in pursuing yoga or Pilates, invest a decent yoga matt. Ideally the matt should be grippy enough that you won't slide off it in the middle of the archer pose. But there are other low-tech, low-cost, items you can add to your home gym that will supercharge your workout and are easy to tuck out of sight when you're done for the day. Dumbbells, kettlebells or weighted soft balls are small items with a big impact on your strength training regime. If you don't have a neighbour downstairs, a jump-rope is an amazing way to crank up your cardio. Resistance bands take up practically no room, but are an excellent way to get your muscles toned and elongated.
3. Create a habit
Before the pandemic, did you have a weekly or daily workout routine? Your home gym deserves the same commitment. Lay out your workout clothes the night before and add an appointment with your health on your calendar. It's always hard to start a new routine, but after a couple of months your workout will become second nature.
4. Download the right apps
If you not going to the gym, you have to confront boredom a lot more quickly than you would at a place where there are people to watch and new routines to learn. Digitizing your exercise routine and exploring a variety of workouts will keep you motivated at home. Here are some great *free* apps to keep your workouts fresh: Nike Training Club, 7 Minute Workout and Sworkit.
5. Go old-school
There is something to be said for relying on the tried and true. If the last time you tried a push-up was in high-school gym class you may be shocked at how effective it is for increasing your upper body strength. You don't have to put too much thought into planks, sit-ups, squats, sun salutations, jumping rope. But staying committed a few basic exercises and increasing your reps, can be a great way to increase your fitness. Working from home? Every hour get up from your desk and do 3 minutes of sit-ups and 2 minutes of jumping jacks – you'll make your fitness goals in no time.
6. Get fit with a workout buddy
If you miss working out with friends, don't let being in your own spaces stop you from continuing this mutually healthful relationship. Try setting up a bi-weekly date to sweat it out together. Maybe your favourite former fitness instruction is still teaching online? Sign up for a class together and then have a quick cool-down call together after to replicate your pre-Pandemic, post-workout coffee dates. Working out with friends keeps you accountable and keeps workouts fun.
7. Challenge yourself
One of the best ways to stay engaged with your workout is by setting goals. Set a course to improve your flexibility, stamina or strength by year's end. Chart your progress and your reps in an old-fashioned notebook or on a smartphone app. Promise yourself a reward (a new set of workout clothes?) if you make progress on your fitness goals.
8. Share your progress
If you have a workout buddy sharing your progress is natural. But if you've been working out in private, don't forget that there are people out there that want to cheer you on… or be inspired by you. Chart your fitness journey on your social media. Or contact your fittest friend to share how you've been crushing your fitness goals. Sharing your progress will deepen your commitment and hold you accountable to your fitness journey.
9. Don't beat yourself up
Maybe you're starting a workout routine for the first time in your life. Or perhaps you're a workout junkie dedicated to your after-work run. Whoever you are, there will be a time in your life when working out just doesn't happen – whether it's an injury, a mood change or a busy schedule (hello, holidays!) stopping you, try not to get down about it. Just remember that we all fall of the fitness wagon now and again. Getting back to it can be as easy as unrolling your yoga matt and doing some gentle stretches.
10. Take it to the streets
Have you heard the saying there is no such thing as bad weather, just bad clothes. As great as having a home gym routine is, it's always a good idea to get outside if possible. Walking the dog, building a snowman, shoveling your neighbour's sidewalk and going sledding (climbing up those hills!) are all low-cost ways to get exercise close to home. By augmenting your home gym exercise with days outside you'll decrease boredom creep, while reaping the energizing benefits of fresh air.
Staying mentally healthy is one of the benefits of physical exercise. Expand your mental health knowledge by visiting Ready for Life, an online resource featuring advice about adult and youth mental health from leading mental health experts.
All articles and other information posted on http://teacherslife.com are intended to be informational only and not for the purpose of providing any health, medical, financial, insurance, legal, accounting, tax or other advice. Teachers Life does not guarantee or represent that any information in these articles or elsewhere on this website is accurate, complete, current or suitable for any particular purpose. You use or rely on such information solely at your own risk. All articles and website content are the property of Teachers Life and all rights are reserved. IN NO EVENT WILL TEACHERS LIFE BE LIABLE FOR ANY LOSS OR DAMAGE YOU INCUR RELATED TO YOUR USE OR RELIANCE OF THE INFORMATION IN THESE ARTICLES OR ELSEWHERE ON THE WEBSITE. See the Terms of Use for more information.