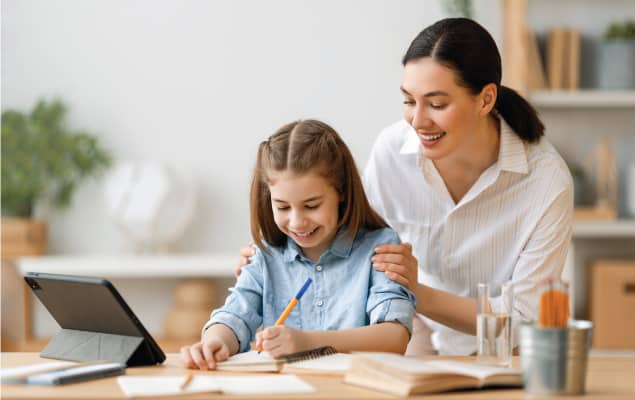 As our COVID summer nears an end, many of us are left in the position of wondering what's to come this fall. Although many schools are taking on different protocols for socially distant learning, it's safe to say that won't be experiencing our usual "back to school" routine. Whether your child will be facing partial or full online schooling this fall, we've created a guide to help ease the transition of back to virtual learning from home.
Creating a Workspace
Creating a workspace that's optimal for learning is key for minimizing distractions and allow for a healthy separation of school from play. Although we are all dealing with a wide range of home spaces and layouts, there are still small adjustments we can create to make the most out of our given space. Here are our top 3 tips for creating an ideal workspace:
Create a separate learning space
This doesn't necessarily have to be an entirely separate room in the house. However, trying to focus on school while working where you sleep, eat, or watch TV is not recommended, especially for children and teens. Try to find a space with a desk, a comfortable chair and good lighting.
Gather your learning tools
Whether it's printing out workbooks ahead of time or having pencils and paper on hand, being prepared for class is just as important at home as it is in the classroom. It's also important to ensure your child has access to a charged device and a stable internet connection, along with a good pair of headphones. Here's a curated list of The 17 Best Back-to-School Tech Essentials for 2020 including some affordable resources.
Eliminate distractions
This may be particularly difficult as distractions may range from siblings, to pets, video-games and even loud neighbors. Consider focusing on what you can control within your environment. Putting devices such as phones, toys and games in a separate room can help make a big difference when it's time to sit down and focus. Having the option of earplugs or noise-cancelling headphones can also help eliminate noises that are out of your control. As for staying focused online, check out this list of 8 Website Blockers for Studying, Productivity & Focus that will temporarily block websites (such as games or social media) while your child is using the device to learn.
Balancing Structure and Play
Did you know that taking breaks to eat, play and relax can help increase productivity? Having a balanced structure of studying and relaxing is a useful strategy for all ages! According to NAU Canada Online, "research has shown that taking a break from your studies every ninety minutes can improve your ability to focus on your work. It can increase your productivity and creativity, too!". Here are 5 simple ideas for what to do during a study-break:
Take a walk: Around the house, with a parent outside, to a park or in the backyard!
Have a snack: A tasty and / or nutritious reward for your child's hard work and focus
Tidy up: Keeping your workspace clean can help you feel more organized and less overwhelmed
Drink some water: Whether it's plain water or water infused with fruit, hydration is key!
Move around: Stretches, mini-exercises or a quick dance party, as long as you get blood flowing!
Here's a useful resource with free visual schedule printable to help kids with daily routines: https://www.andnextcomesl.com/2018/01/free-visual-schedule-printables.html
Checking-In on Mental Health
This pandemic has affected all of us in a variety of ways. For teens and children, having restraints on socialization in the classroom and at school can have serious effects on mental health. Like physical health, mental health is a priority at all ages and should be monitored with support and care. Creating a resiliency strategy and reaching out to others are key tools in coping through these unusual times. Our Ready for Life platform is a unique mental health resource for the education community. It features resources from mental health professionals such as a stress index, student well-being and the ABCs of Mental Health.
All articles and other information posted on http://teacherslife.com are intended to be informational only and not for the purpose of providing any health, medical, financial, insurance, legal, accounting, tax or other advice. Teachers Life does not guarantee or represent that any information in these articles or elsewhere on this website is accurate, complete, current or suitable for any particular purpose. You use or rely on such information solely at your own risk. All articles and website content are the property of Teachers Life and all rights are reserved. IN NO EVENT WILL TEACHERS LIFE BE LIABLE FOR ANY LOSS OR DAMAGE YOU INCUR RELATED TO YOUR USE OR RELIANCE OF THE INFORMATION IN THESE ARTICLES OR ELSEWHERE ON THE WEBSITE. See the Terms of Use for more information.