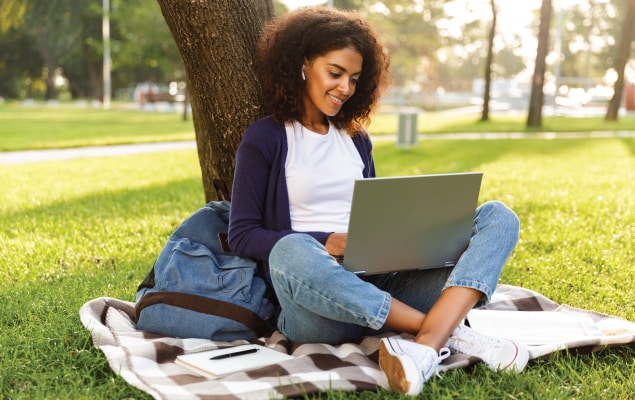 As we slide into the summer months of 2020 with our social distancing and masked faces, many post-secondary students find themselves under additional unusual circumstances of unemployment.
Many are scrambling right now to figure out how this harsh set of financial circumstances will impact their ability to pay for next year's tuition, rent and other expenses.  Students are wondering how this gap on their resumes and lack of entry-level work experience may impact their ability to land their first full time job upon graduation.
In this week's blog, Laura Osborne, a young adult in her final year at McGill University is exploring the ups, the downs and some of the resources available to help students stay busy and help still save some money.
Say goodbye to boredom
So, the summer job you had lined up fell through when the globe began to shut down. Maybe you didn't have one lined up yet and you were waiting until later in the school year to check that task off your list.  Now what? Don't worry there's still plenty of options to keep your mind stimulated and save your sanity. Here's a few of my favorites:
Summer school
Although it doesn't sound the most appealing, your future self will thank you when you get that credit out of the way. I took an online course at McGill in May before I landed this job. And I learned a lot! It was a busy month but in hindsight, I'm super happy I pushed through it, got another credit under my belt and was able to stay stimulated. I've also heard of many people picking up a new language for free through Duolingo
Joining a lab
If research applies to your field of study, I highly recommend looking at some labs or clubs that you could join within your school community. Meeting new people who are interested in the same topics as you helps build a new community for yourself at school, even if it's virtual. Check out your school's academic or extracurricular page to explore some options.
Book or Podcast club
Educating yourself through reading or listening and sharing it with your friends is cooler than it sounds. You can buy the same book or trade with them once you're done. It makes for good conversation and good brain power. Check out Booksparks Summer Reading Camp 2020 for an online book club community.
Volunteering
Offering your support to others during this time is a great way to bring joy to your heart while feeling more connected to your community. As we all face different mental and physical experiences during this pandemic, one of the greatest gifts you can offer is your support. If you're interesting in providing anonymous emotional support, Stella's Place offers remote peer support with free training. If you're more interested in physical support, Food Banks Canada helps you find a food bank local to you.
Let's Talk Money
Staying educated is nice, but it doesn't come cheap.  For most of us, we need to be very careful on how we save and spend our money at this stage to afford a post-secondary education. Let's talk COVID financial aid. Whether your summer employment has been cancelled or cut short you are most likely eligible for government assistance due to this pandemic.
Here are some quick tips to check out if you haven't already:
CERB: Canadian Emergency Response Benefit (a government program for people who have lost income due to COVID-19, you need to have made at least $5000 in employment income in the past 12 months for eligibility)
CESB: Canadian Emergency Student Benefit (a government program for post-secondary students or graduates, including high school graduates, who cannot find summer jobs due to COVID-19, providing student with a benefit payment of $1250 to $2000)
If you want to learn more or think you may be eligible, check out the Canadian government's website under services and information.
Another alternative some students and recent graduates are jumping into is becoming an entrepreneur. Some of my friends are doing nail services, exercise boot camps, babysitting, land work while promoting their services on Instagram and Facebook. Starting a page for your new business is a great way to display your content professionally and reach a broad audience.
Most importantly: Mental Health
This entire COVID experience is strange, uncomfortable and can trigger many experiences of anxiety, stress and depression. Although we're all experiencing this summer differently, you're not alone in feeling as if your mental health is taking a toll. Whether it's just having unusual "bad days" or entering quarantine with existing mental health challenges, this experience is isolating and quite frankly a shock to the system. Here's a compiled list of some available virtual groups and hotlines to help support you remotely:
Recap
As feelings of stress, anxiety and depression arise in light of isolation and lack of employment opportunities, it is normal to feel like you're going through this alone. You're not. It is okay if you struggle with your mental health during this time and to feel unmotivated and unproductive. However, there are so many ways that we can support each other and get through this together. I hope this blog provided some ideas on ways we can stay busy, supported and healthy as a community.
All articles and other information posted on http://teacherslife.com are intended to be informational only and not for the purpose of providing any health, medical, financial, insurance, legal, accounting, tax or other advice. Teachers Life does not guarantee or represent that any information in these articles or elsewhere on this website is accurate, complete, current or suitable for any particular purpose. You use or rely on such information solely at your own risk. All articles and website content are the property of Teachers Life and all rights are reserved. IN NO EVENT WILL TEACHERS LIFE BE LIABLE FOR ANY LOSS OR DAMAGE YOU INCUR RELATED TO YOUR USE OR RELIANCE OF THE INFORMATION IN THESE ARTICLES OR ELSEWHERE ON THE WEBSITE. See the Terms of Use for more information.