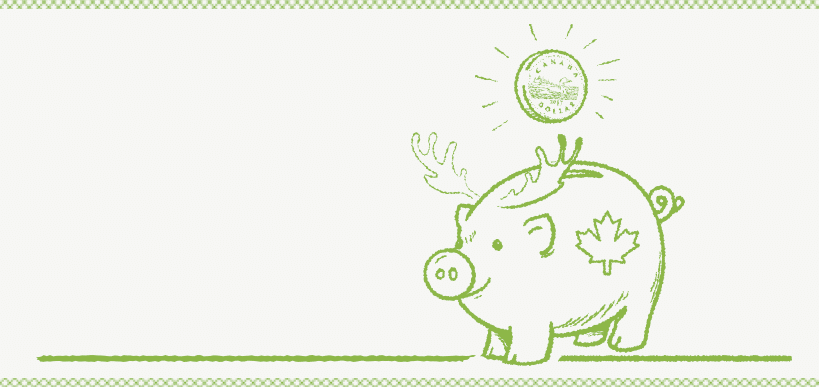 Canadians are known for being polite, humble, modest and welcoming.
But what traits do we share when it comes to our personal finances? How Canadian are you with your money?
We're nice.
In a survey of 1,500 Canadians, Maclean's The Canada Project (2017) found that more than 70% of Canadians had made a charitable donation in the past year. Albertans were the most likely to donate, at 81%, and according to Statistics Canada, Canadian women are more likely to donate to charities than men.
Two solitudes: We keep friends and finances separate.
Maybe it's because of that famed Canadian politeness, but we just don't ask a friend for a loan. In the Canada Project study, 75% of respondents stated that they've never borrowed a significant amount of money from friends or family.
We share our resources.
Although we might not borrow money from our loved ones, we're more likely to pool our resources and share money in the household. A study by the Financial Planning Standards Council (FPSC) in 2014 found that 61% of Canadians (excluding Quebecers) are in a relationship in which they share finances.
Sorry! Some of us aren't the most honest about our personal finances.
In a 2018 study by Credit Canada and the FPSC, 34% of the 1,550 respondents admitted to keeping financial secrets from their current romantic partners. Or maybe we're just being helpful by keeping the worry to ourselves…
What we might lack in honesty, we make up for in frugality.
The Canada Project found that 64% of Canadians are happy to use no-name products to save money, and 38% consider $20,000–29,999 a fair price for a family vehicle (i.e., sports cars may not be in most of our five-year plans). That said, a study by the Canadian Automobile Association in 2018 found that 67% of Canadians don't know the actual cost of owning and operating a vehicle, so car ownership may be off the table altogether!
We worry about money.
In the 2018 follow-up to the 2014 financial stress study commission by the FPSC, 41% of 1,106 respondents (excluding Quebecers) cited money as their greatest stress, and 51% are embarrassed about lacking control over their financial situation.
Worried about money? Get educated, make a financial plan for your family and start with life insurance. For further resources on financial planning and why it's important, check out our blog archives and follow us on Facebook and Twitter.
All articles and other information posted on http://teacherslife.com are intended to be informational only and not for the purpose of providing any health, medical, financial, insurance, legal, accounting, tax or other advice. Teachers Life does not guarantee or represent that any information in these articles or elsewhere on this website is accurate, complete, current or suitable for any particular purpose. You use or rely on such information solely at your own risk. All articles and website content are the property of Teachers Life and all rights are reserved. IN NO EVENT WILL TEACHERS LIFE BE LIABLE FOR ANY LOSS OR DAMAGE YOU INCUR RELATED TO YOUR USE OR RELIANCE OF THE INFORMATION IN THESE ARTICLES OR ELSEWHERE ON THE WEBSITE. See the Terms of Use for more information.