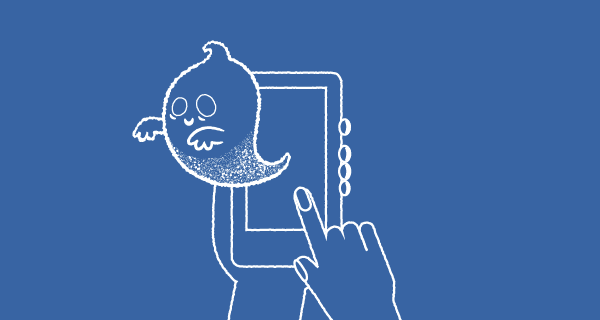 You've just lost a loved one. #RIP.
And then they send a tweet post-mortem. #Surprised.
There's an app for that. #Doublesurprised.
In fact, there's a burgeoning category of apps designed for individuals who want to share their walls as well as their wills, laying their "selfies" bare from the great beyond. Coming out of the coffin, so to speak.
Morbid though it may seem, users of apps like Everest, Cake and SafeBeyond treat death as an important life event, one that – like a wedding or a birth – merits planning and even celebration. It seems odd to think about one's demise as something accompanied by push notifications or online checklists, but perhaps this normalization of death is, well… normal. Driving the popularity of death apps are post–World War II Baby Boomers, followed by Millennials. What do they have in common? Death, for one. And a shared desire to direct their digital estates, design living wills, make multimedia memorials and proactively plan their funerals from the comfort of their iOS or Android devices.
While Facebook, Twitter, Pinterest and Google allow users to assign their accounts to loved ones after their passing, there are #limits. Death apps are to death as LastPass online password manager is to life; they allow users to store account passwords and ultimately transfer control of their online assets (social media, online banking, digital subscriptions, even online shopping) to their loved ones. Point and click funeral outfit, anyone? Even employers acknowledge a need for funeral concierges like Everest; the app claims that over 25 million North Americans have access as part of their benefits packages.
Below is an overview of the top three end-of-life apps that are anything but "inside the box."
Billing itself as a "funeral planning and concierge service," Everest offers its users 24/7 advisor assistance and a step-by-step process for distilling their end-of-life wishes, which are stored in a secure data warehouse. Everest boasts several proprietary tools; among them, PriceFinder allows users to obtain detailed funeral home price comparisons and TenzingTM is a secure, cloud-based data vault for storing personal information.
Competitor Cake's unique selling proposition is its "Cake Card" deck, a serious of Yes/No questions users are guided through to make decisions in four key areas: health, funeral and memorial plans, legal and financial concerns, and legacy. Users can complete as many or as few cards as they like in a given session, responding to statements such as, "I have a backup plan for my online account passwords" or "I have a healthcare proxy."
Finally, a self-proclaimed "Digital Time Capsule" offering "emotional life insurance," SafeBeyond allows users to plan their digital legacies, ensuring their loved ones have easy access to all their digital assets. Perhaps the most interesting of SafeBeyond's offerings is the ability for the user to send post-mortem messages to their loved ones on specific dates, such as anniversaries or birthdays, or when their loved one arrives at a specific location and even generalized farewell messages that will be posted to the user's social media spaces after they pass on.
While a shade darker than birthday party planning, death apps offer users insurance that their will will be done, even as they "check in" to their final resting places. In today's digital world, end-of-life planning can happen online and can be used to cover all of our assets, including the digital spaces we visit as often as – or more often than – the physical spaces. #homesweethome #lifeafterdeath
(Source: the Guardian, 2016)
Teachers Life is more than just an insurance company. Our policyholders are Members. Founded by educators in 1939 to provide not-for-profit insurance, Teachers Life is dedicated to making our community better.
Want to know more? Call us at 1-866-620-LIFE (5433) Monday to Friday, 8.30 a.m. – 4.30 p.m. (ET) or email us at insuring@teacherslife.com.
Working in the education community? Get a free online Needs Analysis today!
All articles and other information posted on http://teacherslife.com are intended to be informational only and not for the purpose of providing any health, medical, financial, insurance, legal, accounting, tax or other advice. Teachers Life does not guarantee or represent that any information in these articles or elsewhere on this website is accurate, complete, current or suitable for any particular purpose. You use or rely on such information solely at your own risk. All articles and website content are the property of Teachers Life and all rights are reserved. IN NO EVENT WILL TEACHERS LIFE BE LIABLE FOR ANY LOSS OR DAMAGE YOU INCUR RELATED TO YOUR USE OR RELIANCE OF THE INFORMATION IN THESE ARTICLES OR ELSEWHERE ON THE WEBSITE. See the Terms of Use for more information.