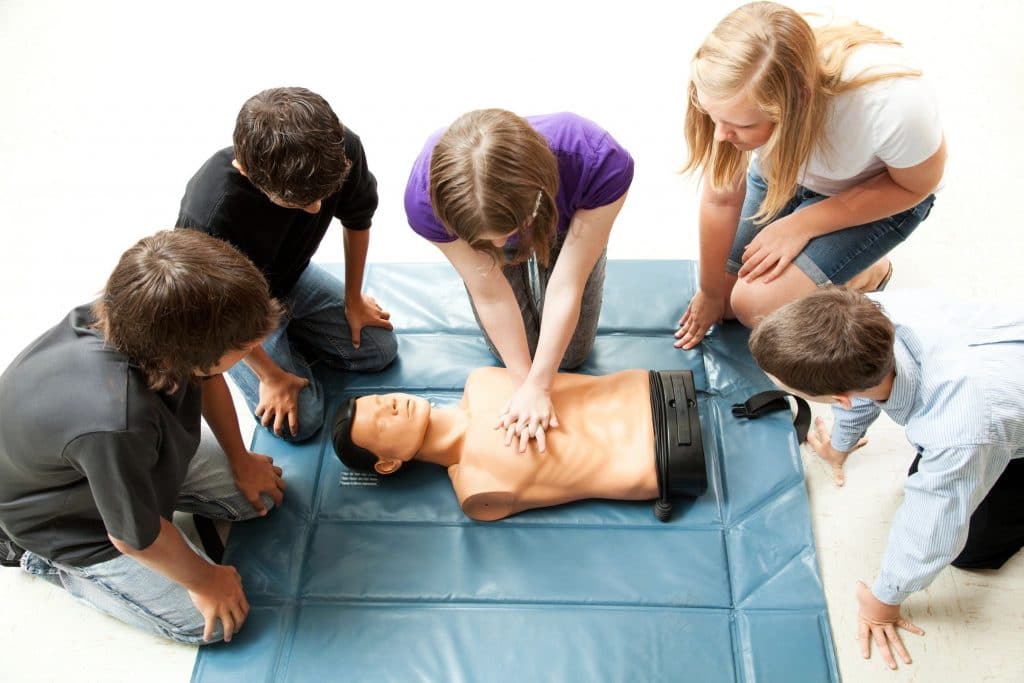 According to the Heart and Stroke Foundation's 2014 Report on the Health of Canadians, 9 out of 10 people carry at least one risk factor for heart attack and stroke. Beyond heart-related cases, there are a myriad of potential medical emergencies that can happen at home, work, school – anywhere. Consider these five ways to be more prepared for medical emergencies:
Establish emergency contacts
Everyone in your household should have easy access to a comprehensive list of contact information for anyone who should be notified or consulted in the event of a medical emergency. Doctors, your provincial telehealth line (if available), your provincial poison control centre, nearby family and friends and workplaces. If you or someone you are with is experiencing a medical emergency that may be life threatening, do not hesitate to dial 9-1-1.
Keep track of medication, allergies, and medical conditions
If you or anyone in your household takes medication, have known allergies (e.g., bee stings, latex, penicillin, nuts) or medical conditions (e.g., diabetes, heart disease), keep these on record. Your family and friends who have been designated as emergency contacts should have these recorded as well.
Know your local hospital and emergency phone number
It's good practice to be learn where the nearest hospital is – closest to home, closest to work – even at upcoming travel destinations. When it comes to travel, it's also best to check what the local emergency number is (e.g., 1-1-2 in most of Europe; 9-9-9 in Hong Kong and most large cities across China; 0-0-0 in Australia).
Fact: In 1959, Winnipeg became the first city in North America to establish a central emergency telephone system.
Manage first aid kits and get CPR training
Store first aid kits in your home, vehicles, cottage – anywhere you spend time regularly. Ensure your loved ones know where these kits are, and check the kits throughout the year as appropriate. As time allows, consider taking up cardiopulmonary resuscitation (CPR) training as well, such as London c2c cpr training that also provide their services across the world.
Cover yourself with critical illness insurance
Critical illness insurance is designed to help cover financial needs when you receive bad health news. Critical illness insurance is typically received as a lump-sum benefit, and you can use it to cover lost wages during recovery, engage in specialty medical treatments, cover medical costs, receive private nursing care, retrofit accessibility aids to your home – even focus on family with travel and reunions.
At Teachers Life, we offer critical illness insurance to educators, administrators, support staff and family members, and we cover 16 illnesses and injuries ranging from heart attack and stroke to cancer, paralysis and more. For more information on our critical illness insurance offering, download our brochure.
All articles and other information posted on http://teacherslife.com are intended to be informational only and not for the purpose of providing any health, medical, financial, insurance, legal, accounting, tax or other advice. Teachers Life does not guarantee or represent that any information in these articles or elsewhere on this website is accurate, complete, current or suitable for any particular purpose. You use or rely on such information solely at your own risk. All articles and website content are the property of Teachers Life and all rights are reserved. IN NO EVENT WILL TEACHERS LIFE BE LIABLE FOR ANY LOSS OR DAMAGE YOU INCUR RELATED TO YOUR USE OR RELIANCE OF THE INFORMATION IN THESE ARTICLES OR ELSEWHERE ON THE WEBSITE. See the Terms of Use for more information.